This booklet provides facts about radiation therapy and side effects and describes how patients can care for themselves during and after treatment. Focuses on how patients can manage their side effects, symptoms to watch out for, and communicating with the health care team.
"Radiation Therapy and You" is for you, if you are about to have or are now having radiation
therapy for cancer. People who are close to you may also find this booklet helpful.
Click HERE for the Booklet (PDF)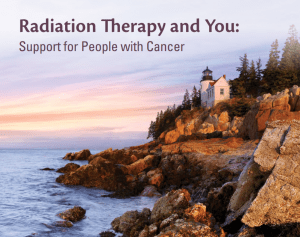 This booklet covers:
Questions and Answers about Radiation Therapy. Answers to common questions,
such as what radiation therapy is and how it affects cancer cells.
External Beam and Internal Radiation. Information about the two main types of
radiation therapy.
Side Effects and Ways to Manage Them. Information about side effects that may occur,
depending on the part of your body being treated, and ways you can manage them.
Questions to Ask. Questions for you to think about and discuss with your doctor,
nurse, and others involved in your treatment and care.
Lists of Foods and Liquids. Suggestions for foods and drinks that can help with
side effects.
Brochure Provided Courtesy of the U.S. Department of Health & Human Services | National Institutes of Health
Talk with your doctor and nurse about the information in this booklet. They may suggest
that you read certain sections or follow specific tips. Because radiation therapy affects
people in different ways, they may also tell you that some of the information in this booklet
does not apply to you.